Homestead Trails
The Homestead Board of Directors appointed the following community members for our volunteer trails committee at the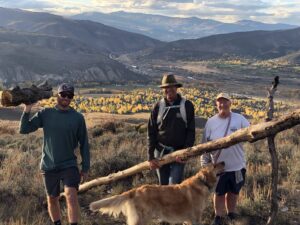 June 11, 2021 Board Meeting:
Scott Bowers
Kathleen Halloran
Dave Bishop
Norman Bowles
Karen Shupe
Grant Smith
Gabe Shalley
Ann Portell
Jane Hall
John and Patricia Lee
Brett Donelson
Dustin Nyhus
Kris Miller
Mike Polk
Bill McNamara (Chairperson and Board Liaison)
Preserving our Trail Systems
Hiking, walking, and riding bikes on muddy trails creates long-term damage to the trail surface. The resulting soil erosion and vegetation damage can drastically shorten the lifespan of a trail. In consideration of preserving our trail systems we ask that you do not use our trails when muddy. That said, you can use the trail when it is frozen, such as early in morning before it thaws. If you find the trails are muddy, please do not take shortcuts or walk on vegetation to get by. You may also notice some of our Homestead trails have additional closure signage, as we are restoring some areas that have been made into shortcuts that we are revegetating. We will be posting some signage to get the word out, as will Eagle County at the L Open Space.
A message from Eagle County Open Space:
Help Open Space dollars go farther by keeping to dry, durable surfaces. Fixing trail and vegetation damage costs tax dollars that could be used on other conservation projects. Your decision to avoid these areas can help keep trails from eroding and vegetation from being killed. All trails at Homestead L Open Space are closed when muddy conditions exist. Extended or more permanent closures may result if resource damage continues to occur. During the "mud seasons" soft surface trails will likely be frozen and suitable for use during the early morning hours or until the sun hits the trail surface. Help keep the trails on the Homestead L Open Space Open, by considering alternative locations for hiking, walking, and biking if the trails are muddy. 
Please contact Phil Kirkman or Peter Suneson at 970-328-8698 for questions. 
Trail Etiquette for Hiking with Dogs 
There are a multitude of great hiking and biking trails in Homestead and throughout the Vail Valley. We are currently in the process of creating trail maps of the Homestead Trails, in the meantime feel free to check out these other great resources:
Open Space Documents (presented at the 2018 Annual Meeting)